Medjugorje Pilgrimage
October 2016: In English and en Espanol
Join filmmakers Sean Bloomfield and Cimela Kidonakis (The Triumph, Apparition Hill) on this once in a lifetime pilgrimage to Medjugorje.
This pilgrimage is hosted by visionary Mirjana Soldo and her family, and our guide is Miki Musa.
This pilgrimage provides a great opportunity to learn more about Mirjana's new auto-biography, MY HEART WILL TRIUMPH, and to get your book signed by her in person. Sean Bloomfield and Miki Musa are co-authors of her book, making this a truly unique and intimate experience into the heart of Medjugorje.
Experience the phenomena of Medjugorje in the most intimate way possible: staying with a visionary and her family. Our pilgrimages are deeply spiritual but also fun and joyful. Stay later to be in Medjugorje for Mirjana's November 2 apparition. Plus, you can choose optional side-trips such as Dubrovnik, Croatia; historic Mostar; Siroki Brijeg and more.
Oct 20 to Oct 28, 2016 – $2295
or stay until November 3, 2016 – $560 extra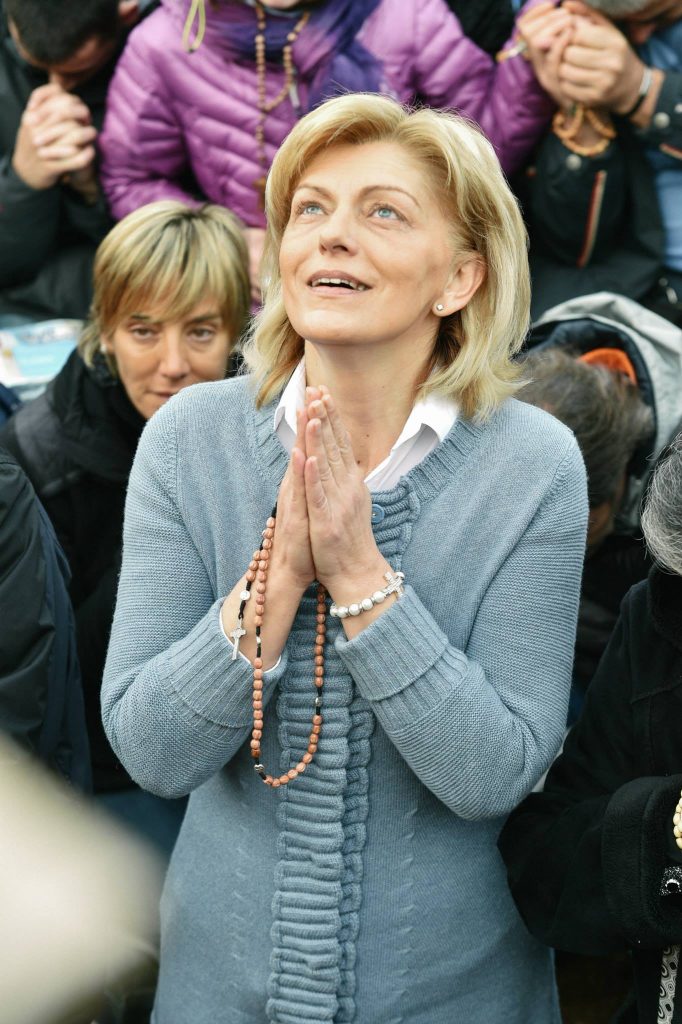 This once-in-a-lifetime pilgrimage includes:
Airfare and transportation from the USA
7 Nights in Medjugorje hosted by Mirjana
Breakfast and Dinner Daily – Delicious, fresh food!
Translations available in both English and Spanish
Local guide and English translator (Miki Musa)
Meetings with visionaries and local priests (per availability)
Talks by the makers of The Triumph and Apparition Hill
See the filmmakers in action for final shots of Cross Mountain
Guided visits to all places of interest in Medjugorje
Visit to the Cenacolo Community
Extra days possible for an additional charge
Guided climbs up Apparition Hill and Cross Mountain
Meeting and Q&A with Mirjana
Learn about Mirjana's new book from her and co-authors Sean and Miki
Travel arrangements by the Croatian MIR Center
*With add-on Extended Pilgrimage, be there for Mirjana's 2nd of the month apparition!
*Extended Pilgrimage Dates: October 28 to November 3, 2016
The add-on price ($560) includes airport transfer, double occupancy accommodation, breakfast and dinner daily. This part of the trip will be hosted at the beautiful Two Hearts Hotel.
Spaces are limited
By joining this pilgrimage, you will be fully immersed in the Medjugorje phenomena. Space is very limited so please reserve your spot soon.
To read more details about this trip, you can download the brochure/registration form:
Pricing Notes
Package price per person from USA (Philadelphia, PA – Low-cost add-on fares available from other cities)
Price includes all taxes and airline fees!
Price based on double-occupancy. If you need a single room, the extra price is $290.
The land-only package (includes everything but airfare) is $998
Discounted ares available from other cities. Contact us for exact fares and availability. Prices are subject to change.
To join the pilgrimage or get more info, call the Mir Center (1-800-220-7729), or submit the form below and our team will get back to you within 24 hours.