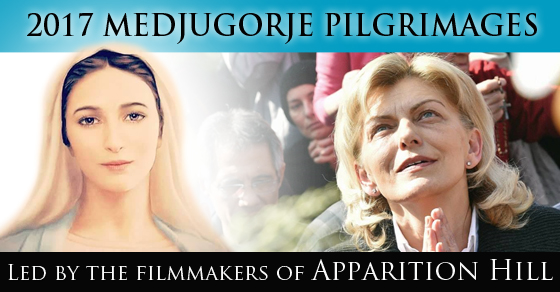 Filmmaker and author Sean Bloomfield has made over 40 trips to Medjugorje, often living there for months at a time while working on books and films, such as Apparition Hill. Filmmaker Cimela Kidonakis, after joining Sean in producing the film Apparition Hill, has journeyed to Medjugorje 7 times within the last year and hopes to never stop visiting.  Join Sean and Cimela on a spiritual journey like no other; you will be fully immersed in the Medjugorje phenomenon.
Our trips are many things: thought-provoking, prayerful, fun, powerful. Our groups are hosted by the visionary Mirjana Soldo and her family, allowing you the opportunity to meet her and hear her amazing testimony. See photos of recent trips
Our English-speaking guide is Miki Musa, whose wealth of knowledge and entertaining commentary about the entire region will enthrall you. Sean and Miki helped Mirjana co-write her auto-biography, My Heart Will Triumph.
We invite you to sign up for one of our upcoming trips and see why nearly every person who visits Medjugorje says it was the best trip of their life!
HOW TO REGISTER: Click the dates below for more information. For questions, or to get a quote with airfare from your city, please call our booking agency, the Croatian Mir Center, at 1-800-220-7729. Or submit the inquiry form below.
PILGRIMAGES
---
(For Mirjana's April 2 Apparition)
---
(For Mirjana's June 2 Apparition)
---
(Led by Fr. Matt & Fr. Andy)
---
(100 Year Anniversary of Fatima's Miracle of the Sun)
---
Questions? Need a quote? Contact us!
---
RECENT PAST TRIPS
October 2016 – IT'S A WRAP!
September 2016 – IT'S A WRAP!
June 2016 – IT'S A WRAP!
October/November 2015 – IT'S A WRAP!
June 2015 – IT'S A WRAP!
---

CUSTOM PILGRIMAGE
We can also put together an all-inclusive pilgrimage just for you and your group! Send us a message if you're interested.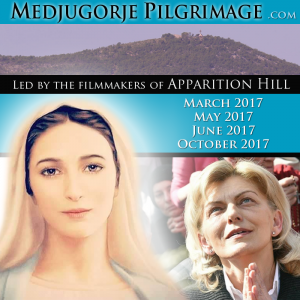 Please share this image on Facebook and include a link to www.medjugorjepilgrimage.com/trips