Experience "Scotland's Medjugorje"
June 14 to 20, 2020 with Stella Mar Pilgrimages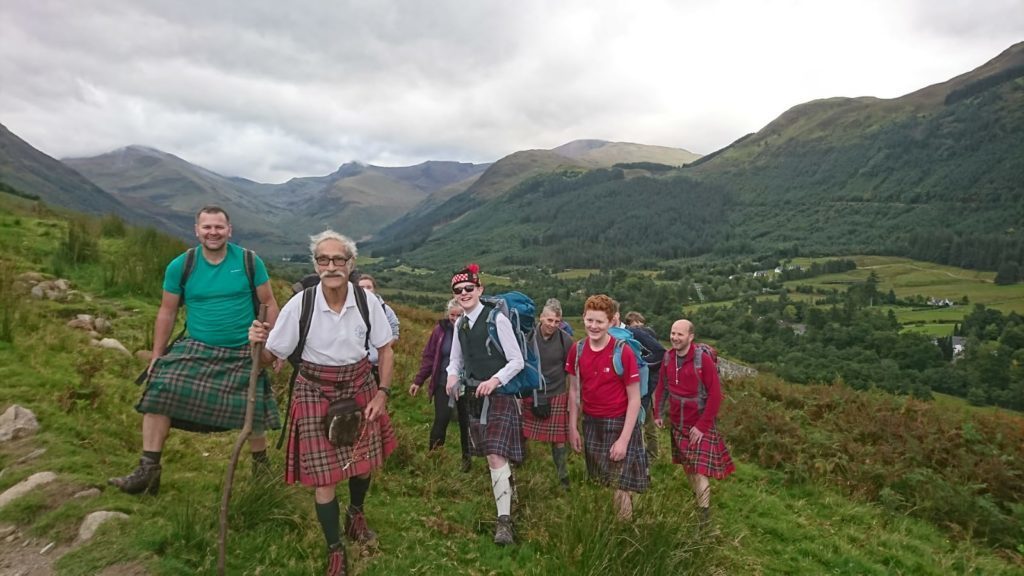 Join us on a pilgrimage retreat at Craig Lodge House of Prayer in the Scottish Highlands, home of Mary's Meals.
OPTIONAL ADD-ON: Continue on a Medjugorje pilgrimage hosted by Mirjana from June 20-26, 2020.

SCOTLAND
June 14 to 20, 2020
As an add-on to Medjugorje, or by itself. Only 25 spots available! Details below.
---
Scotland Itinerary
June 14: USA to Glasgow flight
June 15-18: Craig Lodge
After arriving in Glasgow, we'll embark on the two hour drive to Craig Lodge near Dalmally, where we will have a meal, settle in, and have an introduction for the staff. The next days will be filled with lovely cultural and spiritual experiences.
Craig Lodge is a response to our Lady's call to holiness at Medjugorje. Each day we will explore the beautiful grounds, join the Macfarlane-Barrow family and the Craig Lodge community in prayer and stories, and, in true Scottish spirit, we'll have a lot of fun!
Daily Schedule:
9AM Breakfast
12PM Mass
1PM Lunch
6PM Dinner
Holy Hour/night Adoration
Activities:
Craig Lodge – Learn how this house of prayer went from hunting lodge to fruit of Medjugorje
Mary's Meals – Magnus McFarlane-Barrow will share about the charity he founded which feeds over a million children daily
Stella Mar Films movie night
Ceilidh – Scottish dancing
Climb Cross Mountain – Craig Lodge erected a cross and the Way of the Cross on the hill overlooking the lodge. Together we will take a beautiful hike up through the Scottish Highlands with the Way of the Cross. An amazing view and a surprise awaits you at the top!
Bonfire and local saint stories with Callum, Magnus' friendly, kilt-loving father
Hear tales about the Loch Ness Monster (think we're kidding?)
Rosary walk on the beautiful grounds of Craig Lodge
Kilchurn Castle
Blue Bell Island
St. Conan's Kirk Church
June 18-20: Edinburgh and Surrounds!
After leaving Craig Lodge, we'll take our time heading to Edinburgh and stopping to see beautiful highlights of the highland region, including lochs, waterfalls, ancient castles, and churches.
With two nights in beautiful Edinburgh, we'll explore the city with a guided tour and more!
At the end of the pilgrimage, a bus will bring those traveling to Glasgow airport for flights back to the USA, or, for those going to Medjugorje with us, our short flights to Split, Croatia will depart from Edinburgh.
---
PRICES

Book now for this special discounted pricing!
Scotland Trip – $1200 $1035
You can arrange their own flights, or we can arrange affordable airfare from any city in the USA or Canada. Round-trip Flights from USA to Glasgow, Scotland: Inquire for flight prices from your nearest airport.
Medjugorje Add-On
Add our June 2020 Medjugorje trip and travel with us from Scotland to Dubrovnik on June 20th, with a direct flight!
Transit includes: Travel with Stella Mar team, transfer to Glasgow airport, direct flight from Scotland to Dubrovnik, baggage fees, transfer to Medjugorje. Inquire for add-on pricing
Learn more about the Medjugorje trip.
*The dates of the Medjugorje trip are June 18-26, 2020, however, June 18 is the departure date from the USA. Due to time change, those pilgrims arrive in Medjugorje on the evening of June 19. If you go to Scotland first, we will arrive in Medjugorje on the morning of June 20 just in time for the orientation tour, so you will not miss very much.
FULL PACKAGE
LIMITED TIME OFFER! For those who want a full package including Scotland and Medjugorje, and all airfare included, we have a special offer to save even more. The full package includes:
Flight from USA to Scotland (June 14)
Full Scotland Pilgrimage (June 15-20)
Flight from Scotland to Dubrovnik (June 20)
Full Medjugorje Pilgrimage (June 20-26)
Flight home to USA (June 26)
*Cost may be slightly higher depending on your nearest airport.
---

ABOUT CRAIG LODGE
Craig Lodge is in Argyll, a beautiful part of the west coast of Scotland. It is an area full of history and natural beauty. It is a popular holiday destination with castles, historic towns and islands to explore. Walkers, climbers, bird watchers, naturalists can all enjoy the wild open spaces, the hills, mountains rivers and lochs.
The area enjoys a mild climate and it is known for some spectacular gardens that are open to the public and make a lovely day out for the family. We are also blessed with a wonderful abundance of wildflowers even just along the little road leading up to Craig Lodge. You don't have to go far from the grounds to be in with a chance of spotting hares, red deer and golden eagles.
In years gone by Craig Lodge was a hunting lodge and it retains much of its 'old-world' character. Calum and Mary Anne MacFarlane-Barrow ran it as a guest house up until their decision to turn it into a House of Prayer. It was also home to them and their five children and it is important to us that we maintain this 'family' feel. Craig Lodge is now home to our Community and we hope you feel at home here too during your stay with us.
Craig Lodge is set in seven acres of woods and gardens and looks south across a valley with spectacular mountain views on either side. We are a mile from the village of Dalmally which in earlier times was known as Clachan Diseart or 'township of the holy retreat' in beautiful Argyll.
On the hill behind Craig Lodge there is a beautiful Way of the Cross. The path takes you along mountain streams and climbs steadily to a height of around 1,000 feet (305 metres). The Stations are marked with cairns of stones and at the top there is simple cross. From there you can contemplate the beautiful views of Cruachan, Ben Lui and Loch Awe and the River Orchy winding through the valley below you.

ABOUT MARY'S MEALS
Mary's Meals is a movement to set up school feeding projects in places where poverty and hunger prevent children from gaining an education. The education they receive is their best hope of escaping poverty in later life. The charity has its head office, the famous shed, at Craig Lodge.
It all grew from a simple response to the suffering of the refugees caught up in the horror of the Balkans war in 1992. It began with a local appeal for food and blankets, that Magnus and Fergus MacFarlane-Barrow drove out to Medjugorje for the refugees that had gathered there. However what was supposed to be a one-off aid delivery led to the establishment of a charity that hopes very soon to be providing a million children with a life-transforming meal in school.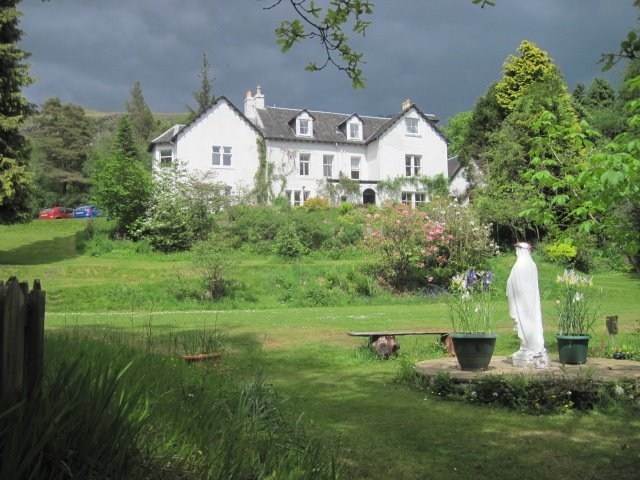 A FRUIT OF MEDJUGORJE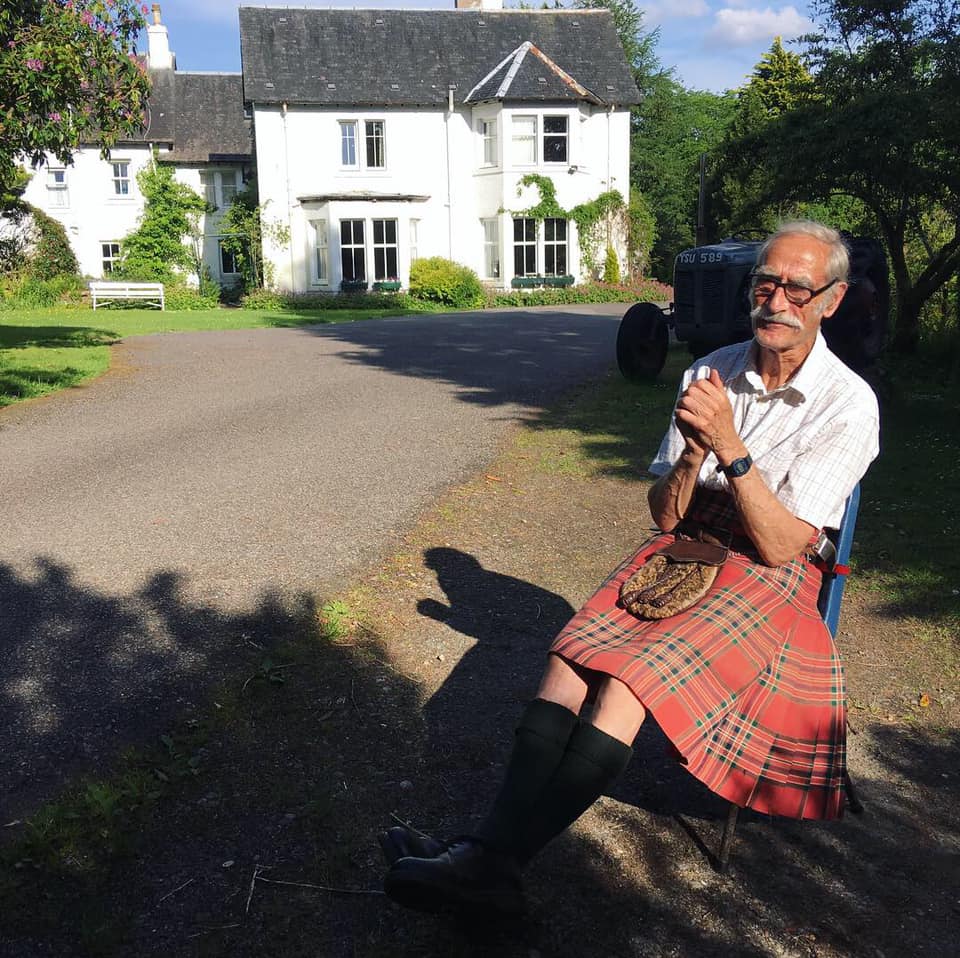 The story of Craig Lodge continues to unfold and has only been possible so far because of the prayers and support of all the good people who come on retreat.
Calum MacFarlane-Barrow tells the tale here:
"My wife, Mary Anne, and I, in 1977, purchased Craig Lodge, a former hunting lodge to run as a guest house and to raise our family of 5 children. It was an idyllic home with 7 acres of woodland and gardens and set in beautiful countryside close to a river and with mountains and hills beyond.
"However, in 1983, our daughter, Ruth, aged 20, read about the claimed apparitions of Our Lady appearing in Yugoslavia which dramatically changed our lives. Along with some cousins, Ruth and her school friend Kenneth Black – now her husband; and 2 of her brothers Fergus (16) and Magnus (15), visited Medugorje, Yugoslavia, at the end of 1983. Their visit had a profound effect upon each one of them and brought about a dramatic change in our lives.
"Mary Anne and I could not but notice the change. They suggested we pray more and even fast and they really meant it! The result of all this was that Mary Anne and I, along with a priest and a small group from Glasgow visited Medugorje two months later in 1984. We too came back and felt we had received many graces. So much so that we undertook to run small retreats for those interested in Medugorje during the winter months which was our close season at Craig Lodge. We continued to do this for the next few winter seasons until in 1988 we decided, after much prayer and discernment, to convert the lodge into a prayer house. We both felt, independently, called to name the house Family House of Prayer."
---
---
Medjugorje Itinerary
Click here for our Medjugorje pilgrimage flyer
If you sign up for both trips, you get one extra night/day in Medjugorje, then you travel with us on the short flight from Croatia to Scotland on May 8.
CRAIG LODGE PHOTOS